Give
There are many ways to contribute to the fight against hunger.  Just like the strategy to end hunger, no single type of donation can end hunger on its own, and every gift is significant and needed.
Important Ways to Give
Support Our Members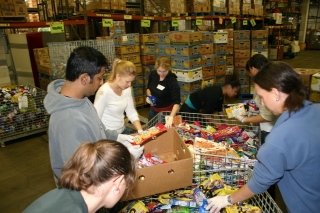 Consider supporting the hard work of those members of the council that fight hunger as part of their core missions.
Gleaners Community Food Bank of Southeastern MI
Livingston County Senior Nutrition (Meals on Wheels)
Donate Food
Emergency food pantries in your neighborhood need donations to continue feeding our neighbors who are unable to get enough food on their own.
View our Wish List to see most needed items.
Individual food pantries can also use financial donations to purchase food at a lower cost than when buying retail.  Click here to find a food pantry near you.
Hold a Food Drive
Let us help you conduct a food drive in your neighborhood, or at your school, business or church to benefit the agencies in Livingston County that give away emergency food.
Contact Gleaners Community Food Bank for more information.