Need Food?
Emergency Food Pantries:
Emergency food is available at area agencies and churches to families in Livingston County who need help with groceries.
The map below highlights food pantries in Livingston County. Drag the map to explore areas of Livingston County or click on the knife and fork icon to find out more information.
Outside of Livingston County? Search pantries near your zipcode.
Search for pantries in your area.

View Pantries in Livingston County in a larger map
Community Dinner Sites and Times:
Sundays: Fish and Loaves rotating sites 5:30pm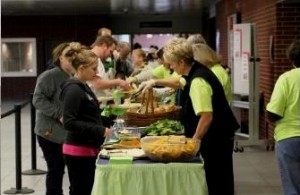 Call (734) 718-6009 for more information
Mondays: St. Mary Magdalen 6pm Call 810-229-8624 for more information
Wednesdays: God's Kitchen (St. Joe's Parish, Howell) 6pm
Thursdays: St. Agnus Catholic Church (Fowlerville) Call (517) 223-8684 for more information
Supplemental Nutrition Assistance Program:

  

SNAP is a government program administered by the Department of Human Services.   For people who qualify, the program puts money on a debit card to buy food at your local participating grocery store.
Apply online, or see if you qualify.
Need help applying for food benefits?  Contact the county's Resource Navigator: 1.866.453.2637 ext 331.
Click Here for information about other government food programs.