Programs for Seniors
Meals on Wheels
The Livingston County Senior Nutrition Program, "Meals On Wheels", is a Non-Profit organization which offers a nutrition service for senior adults over the age of 60.
Well Balanced hot meals are delivered five days a week that meet one third of a person's daily nutrition requirements to the frail homebound seniors of Livingston County.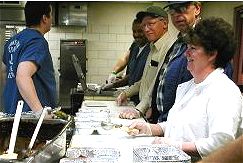 Congregate Meals
Meals on Wheels serves lunch at local Senior Centers in Howell,  Pinckney, 

Hamburg,  Brighton,  Fowlerville,  Hartland  and  Gregory for a suggested low price.
Commodity Supplemental Food Programs
The Commodity Supplemental Food Programs (CSFP) is a federally funded program which works to improve the health of elderly people of at least 60 years of age by supplementing their diets with nutritious USDA commodity foods.  Seniors who qualify receive food on a monthly basis.
Locally, the CSFP program is administered by OLHSA and is run in collaboration with Gleaners at the Shared Harvest Pantry.