How to Support World Food Day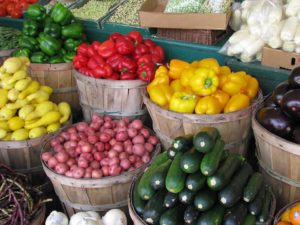 "World Food Day", October 16, 2012, is a day of action against hunger.  It was established by the United Nations in 1981.  In these modern times, nearly one in seven people across the globe still suffer from undernourishment.  "Food Day" is a nationwide celebration and movement for healthy, affordable, and sustainable food. On October 24, 2012, people across America will focus on promoting healthier diets; sustainable farms; and protecting the environment.  A 2010 study estimates the negative impact of hunger in America to be over $167 billion a year in lost productivity, poor education outcomes, and higher health care expenses.
Right here in Livingston County, over 21,250 individuals struggle with food insecurity, that is they don't always have enough nutritious food, according to Feeding America.
The Livingston County Hunger Council urges local residents to learn more about hunger and get involved in finding solutions.  Here are some simple ideas to engage your families, neighbors, and co-workers in the fight against hunger.
Bring a bag lunch to work for a week, and donate the money saved to Gleaners or your local food pantry.
Have a family discussion at the dinner table about how the food on the plate is grown, where it comes from, and how it gets to the grocery store.
October is the final month for local area farmers markets.  Purchase fresh, quality produce from local growers.  Make it a family outing.
Hold a bake sale, a virtual food drive, a neighborhood walk or run, a jeans day at work, or other project, and donate the proceeds to a hunger-fighting cause.
Visit ChooseMyPlate.gov for recipes and ideas to help children learn the importance of nutrition and a healthy diet.
Hold a holiday food drive or cash collection at your workplace or church for Gleaners Community Food Bank.
Join the Livingston County Hunger Council to end hunger in Livingston County.  Call 810-494-3000.Livingston County Hunger Council is a coalition of diverse individuals, businesses, faith-based organizations, schools, municipalities, and non-profits, committed to finding sustainable solutions for hunger in Livingston County, because all people deserve enough food for a healthy, active life.